Meet Alton Butler and Bastrop's New Movie Studio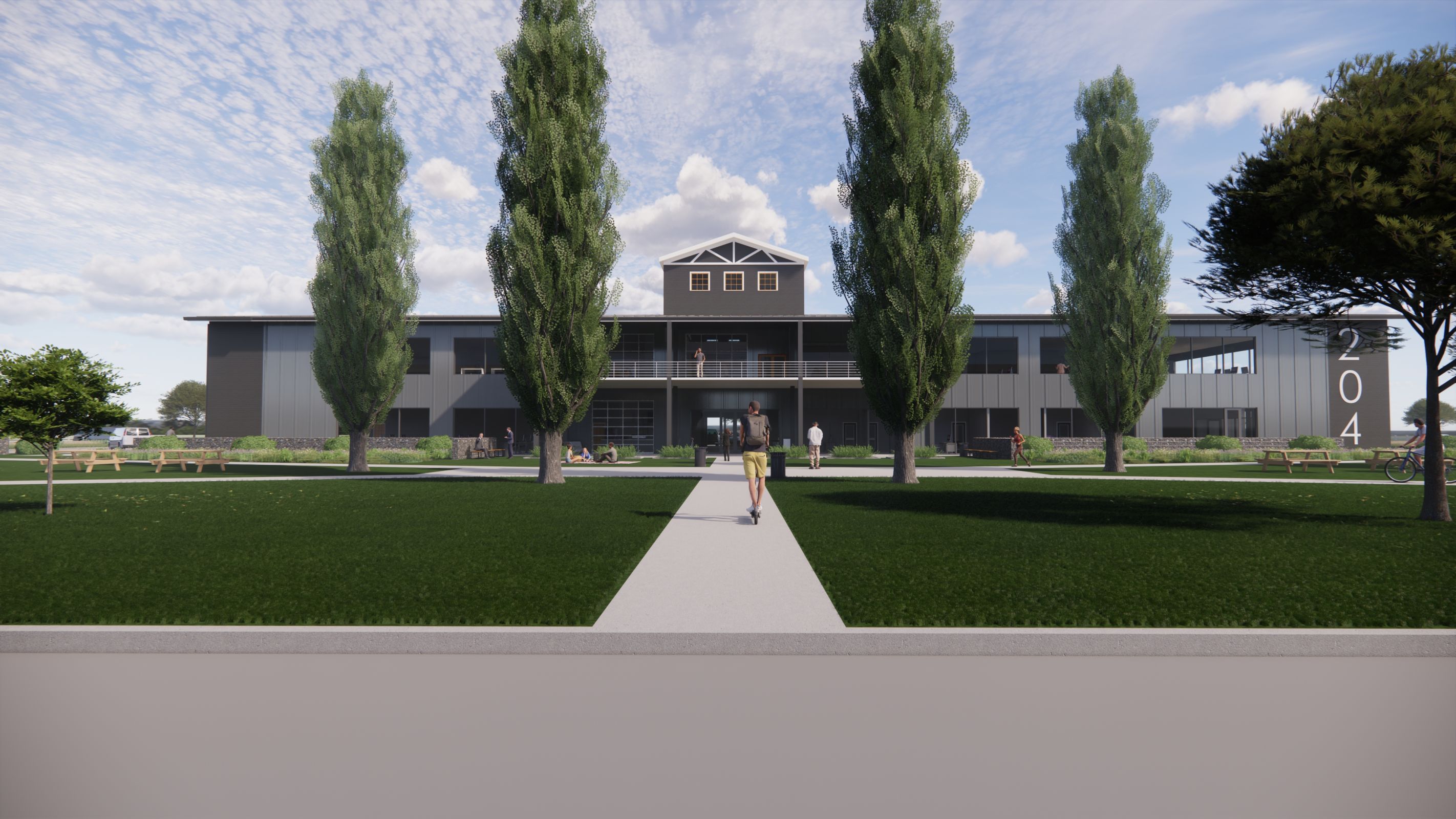 Dreams as vast as the rolling Pacific Ocean pull people from across the country to the possibilities found in Hollywood. They arrive and are entranced by the captivating beauty of the faces they see along with the tantalizing chance of fame and fortune. They chase those dreams, giving everything they have for one shot on the screen, one chance to land a perfect role, that moment of fate arriving.
Such dreams do not come to fruition for most. Fame flits by, slightly visible and even graspable at times, but mostly hiding and lurking in the shadows, nearly impossible to catch and keep. Some of those dreamers fade into obscurity, heading back to rural hometowns to cut hair or become teachers or frequent bars, telling stories to those who will listen about what was and would have been if only the right person had walked by or given them a card or offered that one shot. Others, though, stay with it. They find new dreams to chase, and they work relentlessly to make those dreams come true.
Alton Butler was and is one such dreamer. Alton's life reads like a film script: a rising football star from a hardscrabble Southern upbringing, finds his destined success shattered by a heartbreaking injury, so he initially struggles to find his way. Traversing across the country, from Florida to California, Alton seeks the fortune to be found as an actor only to discover that road blocked by obstacles. Instead, he recognizes a problem, and through years of hard work, fortunate breaks, and good instincts, he creates his own success.
Although the path from Alabama to Texas runs quite straight along the Southern Coast, Alton's route involved substantial twists and turns over the two decades it took him to finally arrive. From humble beginnings in the Alabama to a highly recruited athlete, Alton moved to tiny Fulton, Mississippi, to play football at Itawamba Community College. His talents took him from there to Jacksonville State University, in Florida. After college, Alton was given the opportunity to try out for the Atlanta Falcons of the NFL, a chance offered by NFL scout Bill Jobko. As he progressed, he suffered a horrendous kidney injury that changed everything. Alton returned to Florida and after a brief bout of self-doubt, perhaps the only time in his life this occurred, he recovered and got back in the game of life.
While playing college football, one evening Alton accepted a dare to enter a Chippendale dance contest, which he surprisingly won. During the offseason, he began to travel with a dance group to earn extra money. Upon his return to Panama City Beach, he started his own dance group that became one of the most successful in the Southeast over the following couple of years. He bought a house, enjoyed the perpetual summers of Florida, but he eventually recognized that dancing could not be counted on to last forever. However, Alton still knew he wanted to be a success, so after considering what to chase next, the following move seemed inevitable—off to Los Angeles in pursuit of that shadowy fame.
Alton Butler is quite intelligent, resourceful, and unafraid of hard work and taking a chance on himself. No one achieves the levels of accomplishment Alton has attained without possessing such gifts. Once he reached California, he made a series of moves, both by plan and by recognizing opportunity, that put him in a position for success. First, realizing that education would be necessary, he enrolled in acting classes at Sanford Misner's School of the Arts and received his degree after three years of study. He also began tirelessly working, getting auditions, and even landing a few roles on television and the big screen. Alton soon came to understand that the life of the struggling actor was, indeed, a struggle. For every positive call he received, he received dozens of rejections. That certainly wears a person down. However, Alton kept at his work, but, because he always keeps his eyes and ears open, he happened upon another opportunity that, while enjoyable and provided a chance to play competitive sports again, turned into a blessing in a completely unexpected fashion.
In the early 1990's, the National Football League initiated a 4-on-4 flag football league, and they called it "Air It Out." Teams sprang up in several major cities, including Los Angeles, and many former players and prospects were tapped to make up the teams. Alton and some friends thought it would not only be fun but also a way to compete in tournaments and visit great cities. During his time in the league, Alton found an interest in learning about the television production involved. Intensely outgoing and a voracious student, Alton talked to anyone willing to teach and instruct, and after beginning to spend time working as an art director, he acquired a great deal of knowledge about the intricacies and inner-workings of all aspects of making a show. Enjoying his time playing but accepting that it was no long-term career, Alton's focus on being involved in production increased, and he knew that in order to make that a true job, he needed to get his foot in the door in any way, and to do good work when he did.
Beyond his introduction into art direction, Alton, knowing the value of networking, spoke with production managers and secured a position essentially doing grunt work. One part of the job was picking up rented gear, equipment, and props for commercials and shows. Filmmakers rely heavily on companies that have compiled diverse products that are rented out for set pieces—whether home decor, furniture, or portraits, nearly anything is included in the list of potential items. After a few weeks of seeing what was being rented, Alton came to realize that most of it was, in his words, junk. Recognizing an opportunity to provide a better service, he and a friend decided to take a chance. Each of them cobbled up $1500 to purchase some basic items and decor, all of which were initially stored at his home. Needing someone to actually rent from him was another matter, but, fortunately for Alton, he had built up a tremendous level of trust with the production managers he already worked for. His pitch to them was the same: "If you give me a chance to earn your business and if you are not fully satisfied with the equipment and my customer service, then you don't have to pay me at all and I will never mention it again." He got his chance, and that first job turned into two, then four, then the snowball gathered momentum and the jobs quickly piled up. Alton and his friend, who had continued playing in the Air It Out league, acquired more and more items, and soon his house filled up with so many rentals that he could barely walk down the halls. At that point, with huge success looming and the home bursting at the seams, Alton made two enormous decisions: he moved everything into an 800 square foot building space in Burbank, and he offered to buy out his partner who was not as involved or invested timewise as Alton. The partner took the $20,000 offered by Alton, making him the sole owner of Line 204.
In the following years, Alton proved to be an astute businessman, especially understanding the value of real estate purchasing and sales. His rental company reached a point where he estimates that at least three out of four commercials on television used his equipment and props. He acquired buildings and studios, which he also rented out for production use. As need outpaced the size of those spaces, he would sell them in order to purchase larger spaces, now including stages. Over time, he built a clientele who turned to him for all their needs—rental gear, motorhomes, stages, production equipment, and so much more. In two decades, Alton's abilities to perform and provide at a high level for his patrons cemented his success. However, as he accumulated larger spaces and greater income, he consistently dealt with the aggressive California taxes and state regulations. With a great many filmmakers and production companies fighting the same battles before turning away from the West Coast and seeking new homes in Atlanta, New Orleans, and Austin, Alton began to consider an alternative location to set up an ideal multipurpose site. Fortunately, he already had a perfect place in mind.
In the early 2010s, then Texas governor Rick Perry visited California multiple times and publicly invited business owners to move to the more financially business-friendly state, thus also bringing jobs and resources. Although political leaders across California decried Perry's efforts, many entrepreneurs listened to his words, and Alton was among them. Alton eventually met with Perry, and, as both were from the South and had outgoing personalities, the two hit it off instantly. He visited the Austin area soon thereafter on a business retreat and loved the area and the people so much that he set a goal to one day have a lake house there. Eight years later, he purchased a home on Lake Travis where he and his family would spend four summers. While back home in California over that time, Alton continued to navigate the tougher production regulations imposed by the state. Even with his success exponentially growing, he found he was spending an exorbitant amount of money on taxes alone and dealing with constantly changing regulations. As a result, he found himself often thinking of the burgeoning business and cultural boom happening in Austin, and he became determined to create something incredible in the area. He just needed to find around 500 or so acres for sale.
Alton Butler's creative eye and expertise in film production, along with his real estate acumen, reside at a prodigious level. An important aspect of his talent is knowing when to be patient and when to strike quickly. Understanding the scope of the project he had in mind, he knew he needed the absolutely perfect scenario to present itself in order to optimize success. Desiring several hundred acres for a multipurpose facility, a film studio lot, a working ranch, multiple recreation areas, backlot sets, equipment warehouses, and room for unique accommodations. Alton scoured the area for days, weeks, and months, but could not find the special place he had envisioned. Alton refused to give up, and he knew that place for him was out there. He and his wonderful realtor Cathi continued to work to make his vision a reality. As Alton talked to everyone he met, he heard through the grapevine about a chunk of land, 600 acres with some waterfront views, somewhere in Bastrop. Although they did not exactly remember where the property was located or who owned it, they knew that at that time it was not technically for sale, though it had been. Eventually, through consistent searching, Cathi called Alton to let him know she had found the previous sale notice and was sending it his way. He got it, and upon seeing everything it offered, he screamed aloud, "This is it!" Alton had to discover who the owners were, and after doing so, he contacted them, and following negotiations, purchased the plot. At that point, the real work would begin.
Alton's land, located at 1240 Lover's Lane in Bastrop, is unique, diverse, and incredibly beautiful. Over 500 acres with four and a half miles of winding riverfront, it is an enormous piece of property. Alton's plan for the future Butler Ranch involves developing up to 486,000 square feet of movie production space, 300,000 square feet of warehouse, and 200,000 square feet of offices. In addition, he will be creating a dude ranch with stables that includes horses, longhorns, and assorted exotic animals, a back lot, theme-based housing (locations replicating Bali, Las Vegas, and a post-apocalyptic village among them, which may also be used for corporate retreats and teambuilding exercises), a wellness center, golf course, hiking trails, and a gym. In addition to those structures, Alton has begun consulting with some other big brands to create unique experiences beneficial for all involved parties. One is a 1.3 mile highway loop, built around a 50 acre parcel to be explicitly used for filming purposes. He is also in discussions with a couple of the local Austin area automotive manufacturers for branding rights. The total capital expenditure to construct Phase #1 of the project will be over $60 million and includes eight film sound studios, an office building, and warehouse space. The Butler Ranch, Line 204 Texas, is scheduled for a fourth quarter 2024 ribbon cutting ceremony. The event promises to be theatrically fitting and dramatically orchestrated with entertainment industry heavyweights in attendance.
The enchanting whisper to head to California filled Alton Butler's head many years ago, and he followed that voice. Though not exactly how he predicted, he found success. Building an empire in California, one that continues to grow as Alton's company still calls Los Angeles home, he has expanded into the great Southwest, finding a home in Bastrop. The marriage of Alton Butler and Bastrop seems destined; Bastrop is inviting, warm, and successful, like Butler himself. The town continues to progressively expand, luring businesses and entrepreneurs to invest, build, and grow, and Butler is proud to be a part of this wave of visionaries bringing jobs, security, and dreams to the heart of Texas.