Bastrop High PTech Program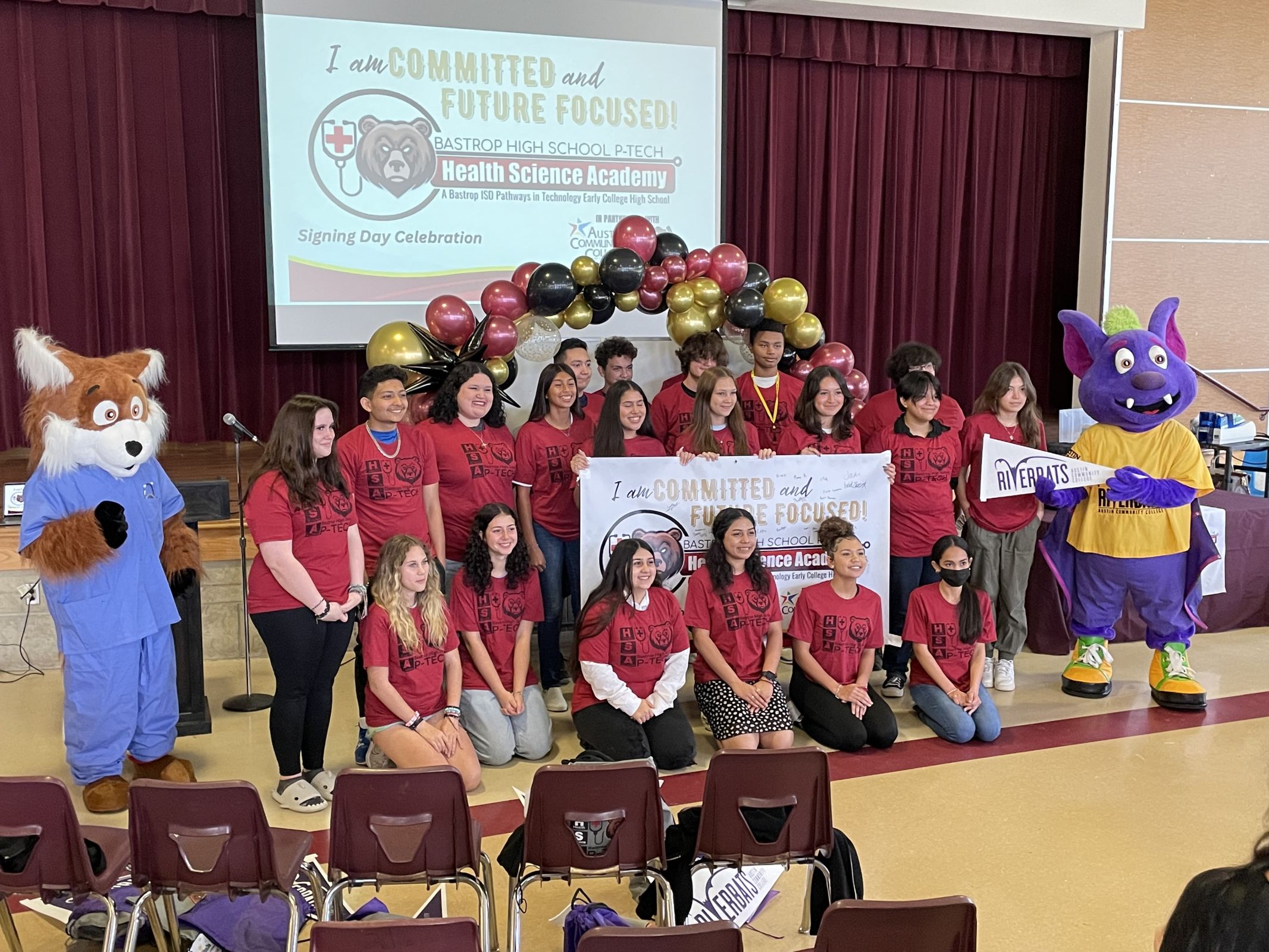 The ultimate goal of educational institutions and their governing bodies is to provide students with an optimal number of academic opportunities, but not every district or school achieves this aim. Fortunately, though, there are schools who are quite successful in this pursuit. When a strong district, such as Bastrop ISD, exists in combination with caring and knowledgeable teachers and administrators, students benefit greatly. Bastrop's high schools have put in place several programs to ensure student success through workforce engagement. Included within the curriculum is the quite recently created P-Tech program (Pathways in Technology), an endeavor focused on allowing students to engage in one of two disciplines, Advanced Manufacturing or Health Science, with the express purpose of preparing them for careers in high demand fields.
Bastrop understands that technological, manufacturing, and healthcare industries' growth and stability are and will continue to be valuable for its citizens for several reasons, including both career and financial security. The growth of local industry necessitates a push for developing the workforce, which also means that creating programs to advance workforce skills must be implemented, especially in cities, towns, and regions where facilities are being built and/or expanded. Bastrop ISD's College, Career, and Military Readiness department, led by Amanda Brantley, seeks to locate and introduce innovative disciplines to more aptly prepare students for the needs of the workplace today. As the Texas Education Agency constantly seeks to offer school districts the opportunities to apply for and receive funding to meet such needs, one specific grant, the PTech Planning and Implementation Grant (PPI), was created to offer students the chance to partake in specific technology education courses while also receiving academic credits, all during school hours. Recognizing that the PPI Grant would provide educational growth for their students, BISD leadership sought to procure funding to initiate a program within its schools to meet the needs of area kids and employers alike. After attaining the grant in 2021, and with the vision of Brantley and management of Dr. Steven Henn and Dawn Vinklarek, who joined the team in 2022, BISD (overseeing both Bastrop and Cedar Creek High Schools) and its longstanding and cherished academic partner, Austin Community College (ACC), kicked off the inaugural year in the program during the 2022-2023 school year.
The program was initiated after deciding the pathways to offer students based on local need. After considering current regional workforce gaps in addition to potential and incoming industrial facilities and businesses, such as Tesla's recently opened Gigafactory, advanced manufacturing emerged as a strong direction to go, and it was chosen to be housed at the Cedar Creek location. The manufacturing discipline carries value for existing local businesses as well, such as Yerico Manufacturing, Ascension Seton, The Boring Company, and Dovetail Custom Wood and Metal. The second program met a true global need, that of healthcare. In particular, the BISD team centered on a pharmacy technician certification program, which was placed at the Bastrop campus. That choice proved to be quite necessary on the local level as well due to the likely expansion of the local hospital, an essential for a community in the Austin region where populations are rapidly trending upward. Additionally, such growth often coincides with an increased need for health care professionals in every discipline, from doctors and nurses to pharmacists and specialists, and the pharmacy technician program is useful in terms of delivering a basis of critical foundational knowledge for anyone working in the medical industry.
Once the grant was approved and programs and sites were decided upon, the most important element, the possible students to fill the seats, gained prominent focus. With a requirement of 12 students per program, recruiting efforts were initiated. Students wishing to capitalize on such an innovative and fulfilling program stepped forward, and any worries about hitting the dozen mark proved fleeting as 22 and 36 freshmen joined the manufacturing and healthcare programs, respectively. Even after losing some students, the programs settled in at 15 and 24 students, a great turnout when recognizing the difficulty that often arises when trying to get something new off the ground. In fact, the programs proved so successful that the upcoming cohort for the 2023-2024 school year already has over 50 students signed up, and Dr. Henn stated that the hope in the near future is that over 200 students will be involved. Certainly, the programs have inherent value, but that worth is only positively magnified with tremendous faculty. With Annette Harrison, who has 38 years of nursing experience, and Becky Duty overseeing the pharmacy technician program at Bastrop High and Elizabeth Lewey over manufacturing at Cedar Creek High, the students are in competent hands. As students progress beyond their freshman years their overall education should culminate in internships or apprenticeships as they enter their upperclassmen stages as well as industry recognized certifications and credential attainment.
With the current and continued accomplishments of the PTech program, the overall benefits for the students must be acknowledged. The training the students receive is second to none, and learning and honing skills while still young readies them for immediate success. Possessing a skillset prior to becoming employed also allows the students to expand their abilities further into areas of business management, accounting, and social media networking, making them more well-rounded and, therefore, highly marketable and desirable. Dr. Henn pointed out the value, too, of being a part of a cohort model. The students can develop what Henn called "social capital," including building strong bonds with their fellow classmates, developing professional relationships with industry personnel, and, through site visits, gaining confidence and a feeling of comfort in their working environments.
The PTech program offered by the BISD truly embodies what a thoughtful, organized, and forward-focused educational team can deliver to give students the best chance for success. The leadership successfully set out to construct a plan, a streamlined curriculum, and a set of comprehensive and effective goals for their students to utilize to reach successful outcomes that will affect their lives in positive ways. In doing so, they have developed a model that benefits both the Bastrop ISD students and local employers who are challenged to fill openings in their labor force.