Bastrop provides the ideal environment for growth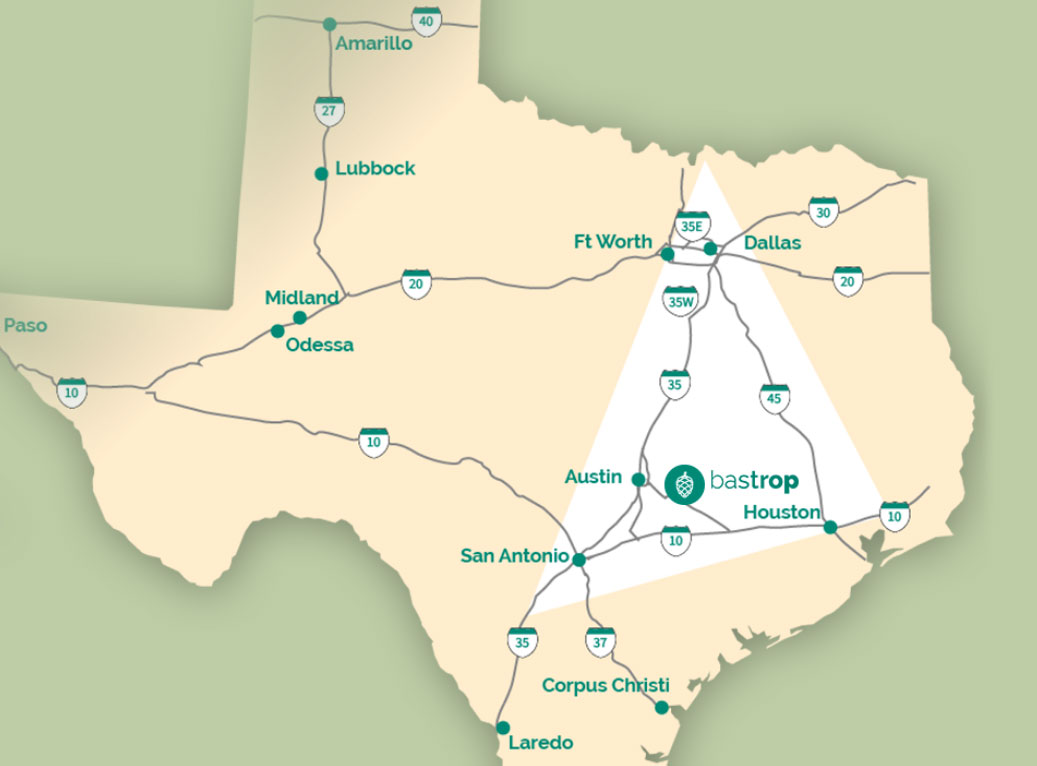 Bastrop: Location Convenience and Affordability  
Bastrop, conveniently located in the Texas Triangle, just 30 minutes southeast of downtown Austin, delivers a comfortable, affordable, and safe family-oriented community with easy access to the opportunities of multiple metro regions. Bastrop offers hospitable charm and a fun art scene, adding up to a dynamic suburban lifestyle.
Bastrop: Close to Austin In the Heart of the Texas Triangle
The Texas Triangle, home to more than 70 percent of the state's population, is positioned between the Dallas-Fort Worth, Houston, San Antonio, and Austin metropolitan areas and stands out as a distinctive model among America's large urban mega-regions. For one thing, it's growing faster than the other mega-regions: Northeast Corridor, Urban Midwest, Urban Southeast, Southern Florida, Southern California, Northern California, and Pacific Northwest. The Texas Triangle also boasts increasing economic diversity, a relatively young, educated population, and a pragmatic "less-red-tape" approach to economic development.
Bastrop is the best of what the Texas Triangle has to offer. Here, you can find ample affordable land, easy access to transportation assets, and an enviable quality of life. It's the ideal environment for growth.
Demographic Fast Facts:
Median Age: 36
City of Bastrop Population: 10,434 (2.49% annual growth rate)
Bastrop County Population: 95, 101 (27.88% increase over past decade)
Austin MSA Workforce: 1.3 million plus
Bastrop Workforce: 45,000+
Bastrop Location Advantages
Logistics is easy in Bastrop, Texas. It has a robust network of transportation infrastructure that allows companies direct access to domestic and international markets. Companies can efficiently ship products throughout the nation and around the globe, a distinct advantage in today's fast-paced business landscape. 
Highways
Texas has an extensive interstate system connecting it to the rest of the country. Bastrop is linked to Dallas, Houston, San Antonio, and Austin within the Texas Triangle via main highways. An easy 30-minute drive on Texas Hwy 71 brings you to Austin. Nearby NAFTA Highway Interstate 35 gets you north to Dallas and south to San Antonio. A short drive to Highway I-10 leads you east to Houston. 
Distances (Drive Times) to Regional Texas cities:
Austin 30 miles (30 minutes)
San Antonio 92 miles (1.5 hours)
Houston 134 miles (2 hours)
Dallas/Ft. Worth 222 miles (3 hours)
Air
Austin-Bergstrom International Airport is a quick 25-minute drive on TX 71 E for easy access to direct domestic and international flights from Barbara Jordan and South terminals. The airport has state-of-the-art cargo facilities next to a 12,250 ft. long runway and near Texas Highway 71, making ingress and egress to the airport easy. It's also within minutes of the NAFTA Highway Interstate 35.
Rail
An extensive Class I rail network serves the Texas Triangle, with Bastrop sitting on the Union Pacific line. The Bastrop Business and Industrial Park, zoned commercial/industrial, is adjacent to the rail.
Port
Bastrop is a 2-hour drive from the Port of Houston, a 25-mile-long complex of diversified public and private facilities located just a few hours by ship from the Gulf of Mexico. The port is consistently ranked: 
#1 in the U.S. for foreign waterborne tonnage 
#1 in U.S. for imports
#2 in the U.S. for export tonnage  
#2nd in the U.S. for total tonnage 
It is also the nation's leading break-bulk post, handling 65 percent of all major U.S. project cargo. Each year, more than 200 million tons of cargo move through the Port of Houston, carried by more than 7,700 vessels and 150,000 barge calls.