Attention Bastrop Students and Parents! Available Training Makes a Promising Career in Welding a Reality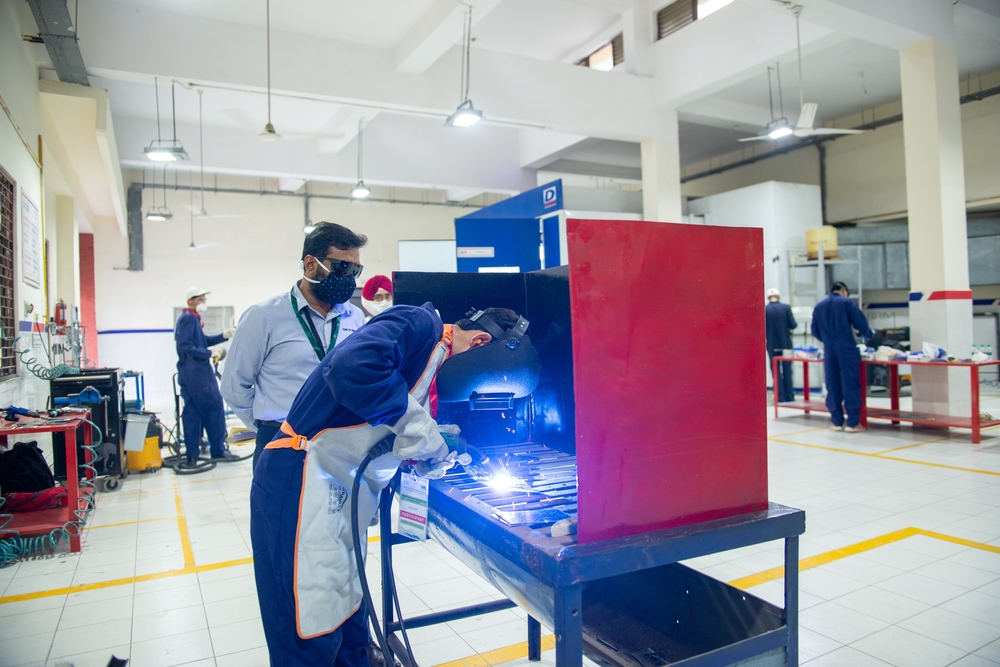 When you think of high school students, recent graduates, and GED seekers, do you also think about economic development? Bastrop Economic Development Corporation (BEDC) does!
Part of an economic developer's job is to improve the local labor force and enrich the lives of residents by supporting workforce development opportunities. Bastrop, located in the heart of Texas, under an hour from Austin, has phenomenal low-cost workforce training opportunities that translate into well-paying, in-demand careers that don't require a four-year college degree. It's like a fast track to a prosperous future.
BEDC is lucky to have exceptional workforce development partners such as Austin Community College (ACC) and the Smithville Workforce Training Center. Let's turn the spotlight on how the first steps toward a career in welding can be completed in just a matter of weeks.
BEDC worked with Austin Community College to locally offer the Introduction to Arc Metal Welding course (WLDG 1001), a 48-hour total class resulting in an ACC Institutional Award. The class costs $451, but most of the recent student class earned scholarships from the Smithville Workforce Training Center ARPA grant fund. ACC reports that new workers start at around $29,643 annually. The median pay is $47,326, while highly experienced workers can earn up to $68,944.
This class is the basic training needed for students to move into the welding industry, but bringing it to Bastrop was anything but basic. It was a five-year process with BEDC bringing community partners to the table. Once Bastrop Power and Light donated the space to host the class Austin Community College developed, the Workforce Solutions (WFS) training opportunity became a reality. After the completion of the pilot program, 14 graduates received certificates.
"We have two recent expansions in our community — TCS Mechanical and the Boring Company — who need welders," said Jean Riemenschneider, BEDC Business and Workforce Manager. "This is why it is so critical for us to have these trade programs active in our community. We have other companies looking for welders as well. All told, Bastrop may have a need for upwards of 700 welders. We are pleased to see this workforce solution become a reality."
Upon completion of the Introduction to Arc Metal Welding course, students may have the opportunity to enter the workforce immediately with a trial period, or they can pursue further education. ACC offers stackable credentials that apply to advanced certificates or can often count toward associate degrees.
Plans for future programming are underway. Follow the BEDC website, Twitter, and Facebook page for updates, or email them today to be the first to know about life-changing opportunities. And yes, students are very welcome to contact the economic development office for help with their futures!
Bastrop Career Development Opportunities
Austin Community College
Just 40 minutes from Bastrop, Austin Community College serves Central Texas as the primary gateway to higher education and technical training. ACC's mission is to provide open-door access to an affordable college education for those who want to earn a degree, learn a marketable skill, and advance their careers. Explore their career and technical training programs that meet industry standards and provide expert guidance and hands-on practice to master valuable workplace skills.
ACC recently received a $331,722 Jobs and Education for Texans (JETS) grant to help purchase and install equipment to provide training for welders, cutters, solderers, and brazers.
Bastrop ISD Career and Technical Education
Bastrop ISD CTE provides students with the academic and technical skills they need to succeed in future careers and develop skills to use throughout their lives. CTE classes introduce students to workplace competencies and make academic content accessible by providing instruction in a hands-on context. Bastrop ISD offers career pathways in nine different areas, most of which provide students the opportunity to earn industry-recognized certifications and articulated college credit.
Bastrop ISD has received a total of $612,481 JETS grant funding. Of that, $260,443 will help purchase and install equipment to provide training for automotive service technicians and mechanics; $146,722 will help buy and install equipment to provide training for carpenters; and $205,316 will help purchase and install equipment to provide training for nursing assistants.
Community Action Inc. of Central Texas
Community Action has free adult education classes in Bastrop, including English as a Second Language (ESL), High School Equivalency (HSE or GED), bookkeeping, Quickbooks, Microsoft Office, EMT, phlebotomy, and others. Community Action is committed to developing opportunities for people and communities to realize their potential by providing resources and comprehensive services to empower Central Texans of all ages to become self-sufficient.
Smithville Workforce Training Center
Smithville Workforce Training Center is an exceptional resource for career development. Smithville Workforce provides high-quality certification programs intended to build the community by linking training to jobs that pay a solid living wage. Coordinators seek input from local businesses to find out what kinds of skills and training they require of new hires and speak with students and prospective adult trainees to find out what they want to learn to meet their life goals. Programs developed from these collaborations create solutions that meet the needs of residents and the businesses that will employ them.
Smithville Workforce has recently received a $4.8 million grant to bolster critical job training that will benefit Lee, Fayette, and Bastrop counties.
Bastrop Economic Development Corporation
Bastrop is ideally located in the heart of the Texas Triangle with easy access to Austin, Houston, San Antonio, and Dallas/Fort Worth, plus it's more affordable. It's a place with room to grow and a history of innovation. To find out how Bastrop is perfect for your business relocation or expansion, contact Bastrop Economic Development Corporation at (512) 303-9700 or info@bastropedc.org.
Follow BEDC on Facebook, Twitter, Instagram, LinkedIn, and YouTube.